NBG hosts workshop on Open Banking
By Nika Gamtsemlidze
Wednesday, December 18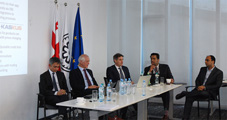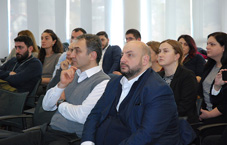 National Bank of Georgia Financial and Supervisory Technology Department hosted a workshop on Open Banking.
The meeting, attended by representatives of commercial banks, was held within the framework of the Financial Engagement and Accountability project of the EU and World Bank.
Open Banking works as a way of immediate exchange of information within the financial institution between different financial organizations using electronic technologies.
It is noteworthy that open banking can bring positive results for both consumers and the entire financial sector. Open banking creates a fertile ground for efficient use of new technologies, significantly improves access to finance, fosters healthy competition, and is the basis for data-driven Fintech business model development.
The main purpose of the meeting was to share the experience of different countries on important practical issues for the implementation of the Open Banking Initiative in Georgia and outline future plans in this field.
Banking officials discussed issues such as the importance and need for open banking within market requirements and EU regulations, various open-source interface standards, as well as steps needed to implement open banking in the United Kingdom, EU countries and Australia.
The seminar was co-hosted by experts from the World Bank, who were directly involved in the implementation of open banking in different countries. The meeting was also attended by representatives of the Georgian Banking Association and Commercial Banks.
It should be noted that a working group of representatives of the Banking Association of Georgia and Commercial Banks was planned to take further steps on the issue of open banking, initiated by the National Bank of Georgia.
Open banking is a banking practice that provides third-party financial service providers open access to consumer banking, transaction, and other financial data from banks and non-bank financial institutions through the use of application programming interfaces (APIs). Open banking will allow the networking of accounts and data across institutions for use by consumers, financial institutions, and third-party service providers. Open banking is becoming a major source of innovation that is poised to reshape the banking industry.
The World Bank is an international financial institution that provides loans and grants to the governments of poorer countries for the purpose of pursuing capital projects. It comprises two institutions: the International Bank for Reconstruction and Development, and the International Development Association.