Tbilisi Mayor not satisfied with rehabilitation works on Dry and Saarbruecken Bridges
By Nika Gamtsemlidze
Thursday, December 26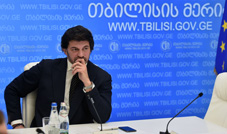 The last meeting of the year was held at the Tbilisi City Hall. This was the 43rd municipal government meeting.
According to Tbilisi Mayor Kakha Kaladze, companies working on the dry and Saarbruecken bridges should start their works anew. Kaladze instructed Deputy Mayor Irakli Bendeliani to summon the employees of the company carrying out rehabilitation works today. According to the mayor, road infrastructure works are poorly executed.
According to Kaladze, company representatives should be subject to the standards and requirements of the capital city municipality. He said that the company should carry out works with its own expenses.
"It is absolutely unacceptable for us to receive such a project. The staff at our lab said that everything was very poorly executed," noted Kaladze.
The Mayor also emphasized the issue of satisfying the people who were affected by the company Sveti. It was also noted that the completion of the unfinished construction of the Sveti is planned for February 2020.
According to Kaladze, the City Hall support measures have been specified and defined, which should be implemented to complete these projects.
Tbilisi Mayor also talked about the plans for holidays. As he said, New Year's Eve public transport will serve passengers free of charge. From 23:00 on December 31, 160 buses on 75 routes will operate.
The Mayor of Tbilisi summed up the year 2019 at the last session of the capital city government and thanked all the employees of the municipal structures as well as media representatives.
According to him, this year was a busy and successful year for the City Hall. The Mayor also emphasized the work done to create green spaces.
"It is important for us to create as much green space as possible in the capital and to regulate existing ones; Create new city parks, plant new tree plants. During the implementation of all infrastructure projects, special attention is paid to the creation of new green spaces, which will contribute to the improvement of the existing ecological situation," noted Kaladze.
Talking about health and social issues, Kaladze noted that almost 240,000 people have benefited from government programs in different areas. "Unfortunately, there are still families that need our support. We will continue to support them as long as there is a need for this," added the mayor.
Kaladze also assessed the projects implemented in the field of education. He particularly emphasized the Fellowship Program for Honorable Students and the Funding Program for Socially Vulnerable Students.