Koba Gvenetadze participates in Central and Eastern European Forum 2020
By Nika Gamtsemlidze
Friday, January 17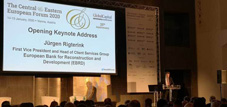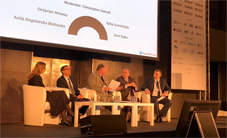 On January 14-15, President of the National Bank of Georgia Koba Gvenetadze participated in the annual Euromoney Central and Eastern Europe Forum in Vienna.
The event brings together investors, policymakers, financiers and regulators from around the world every year. This year marks the 25th anniversary of the annual Forum of Central and Eastern Europe, and one of its main topics was monetary policy.
The President of the National Bank of Georgia shared his experience and vision with the conference participants. The monetary policy, the existing challenges and the steps of the central bank were also discussed.
Koba Gvenetadze noted that despite the difficulties, in 2019 economic growth remained at a very high level, and the current account deficit improved significantly.
He also stressed the importance of the IMF's expanded funding program, which was extended by the end of last year for another year until April 2021.
Gvenetadze also spoke about the importance of reforms in the banking sector, such as the new law on banks' resolution, the introduction of systemic capital buffers, the work on implementing a sustainable financing framework and more.
Within the framework of the forum, the President of the National Bank of Georgia held meetings with representatives of international rating companies. He also met with potential investors and briefed them on the country's macroeconomic trends.
The main objective of the monetary policy of the National Bank of Georgia is to maintain price stability. Price stability implies the existence of a moderate and predictable rate of inflation, which is a necessary precondition for long-run economic growth.
Furthermore, the NBG supports financial system stability and promotes the country's economic growth as long as the latter objectives do not come into contradiction with its main goal – maintaining price stability. Monetary and exchange rate policies serve the objective of preserving the purchasing power of the national currency, raising the growth potential of gross domestic product, and improving the investment climate.
The main objective of the National Bank of Georgia is defined by the Organic Law of Georgia on the National Bank of Georgia. The inflation target and the main instruments of monetary policy are listed in the Main Directions of Monetary and Exchange Rate Policies, developed annually by the Monetary Policy Committee and approved by a resolution of the Parliament of Georgia.