PM Gakharia meets with EBRD First Vice President in Davos, Switzerland
By Natalia Kochiashvili
Wednesday, January 22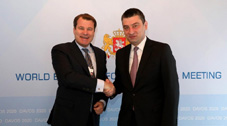 Georgian Prime Minister Giorgi Gakharia will participate in the World Economic Forum in Davos, Switzerland. The head of the Georgian government arrived in Davos yesterday.
According to the Georgian PM's press office, high-level bilateral political meetings will be held with heads of state and government. The office noted that the economic part of the PM's working visit will be devoted to meetings with the heads of international financial institutions and the world's largest companies.
Head of Government of Georgia held a meeting with Jurgen Rigterink, First Vice President of the European Bank for Reconstruction and Development (EBRD), at the World Economic Forum in Davos.
According to Gakharia, the EBRD is a strong supporter of Georgia's development agenda and the government appreciates fruitful cooperation with it.
The meeting regarded that Georgia is one of the largest beneficiaries of EBRD investments, and its diversified portfolio offers significant opportunities for development from the energy sector to agriculture.
According to them, the role of the EBRD in the formulation of the National Energy Efficiency Strategy as well as its special contribution to the education sector was highlighted as the reform of the sector is one of the top priorities of the Government of Georgia.
The meeting highlighted the importance of ensuring the inclusiveness of the economy and increasing access to finance for the private sector. According to the parties, the Investment Council, supported by the EBRD, which is an independent platform for constructive dialogue between businesses, international organizations, donors and the Government of Georgia, aims to promote private sector development.
"I am very proud that 2019 was the best year for us in terms of investment results in Georgia. We have invested almost $ 300 million over the year, and we have a total credit portfolio of nearly a billion. Thus, we are in a unique position and 70 % of our investments are in the private sector. Cooperation with Georgia is obviously very good. We like the reforms and their continuous progress," said the First Vice President of the EBRD after a meeting with the Georgian PM.
During the visit, the PM will also participate in the thematic discussion "New Ambitions for Europe" with European counterparts.
The head of government will address the participants of the official event organized for European leaders - "Uniting Europe" and attend a reception on behalf of the Founder and Executive Chairman of the World Economic Forum in Davos, Professor Klaus Schwab and Hilde Schwab.
Among the Georgian delegation are Finance Minister Ivane Machavariani, PM's Advisor on International Affairs Irakli Chikovani and Economic Advisor Beka Liluashvili.
According to Liluashvili, Gakharia will hold meetings with senior partners, heads of government and international financial institutions at the highest level. He said that up to 30 meetings are planned within the visit, which includes meetings of both political and economic character, as well as events envisaged by the Davos Economic Forum program.
The visit of the Prime Minister of Georgia will end on January 24.