BP Georgia and USAID/Zrda Activity to Support Communities Across Georgia
By The Messenger Staff
Thursday, January 23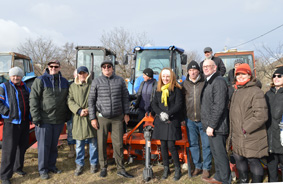 On January 22, 2020, USAID/Georgia Mission Director Peter Wiebler and BP Head of Country Ann Davies joined Shida Kartli Governor Giorgi Khojevanishvili to visit jointly-supported project sites and familiarize with the opportunities of economic and social growth in Nigoza village of the Kaspi Municipality.
In 2018 USAID/Zrda in partnership with BP Georgia launched joint program in 41 villages where BP and Zrda activities overlap, including village Nigoza.
"Within the joint program, USAID/Zrda and BP will support sustainable, social and economic development projects that respond to the needs of the local population and have the potential to positively impact the target communities including by creating jobs and income-generation opportunities," stated USAID/Zrda Activity in Georgia, Chief of Party, Brian King to The Messenger.
Joint project is implemented as part of the wider Community Development Initiative program, initiated and funded by BP and its oil and gas partners. Focus areas of the partnership include agriculture, business and community development.
"The most important thing today is the USAID and BP partnership in these communities to create jobs and economic opportunities here in the villages around the Administrative Boundary Line. By partnering with BP, we are trying to improve the living standards and economic prospects for Georgians all around. These types of partnerships will create a better future for the country and also strengthen relationships between the United States and Georgia," USAID/Georgia Mission Director Peter Wiebler told the paper
The program covers 41 target villages with more than 14,000 local residents, with activities carried out by two implementing partners. As such, Biological Farming Association Elkana is implementing small business development projects in 22 villages located in the Kaspi, Gori, Kareli and Khashuri municipalities of Shida Kartli region. The target area is located along the Western Route Export Pipeline, also known as the Baku-Supsa pipeline. Another implementing partner, the Regional Development Association, is implementing community development initiatives in the remaining 19 villages located in the Akhaltsikhe, Adigeni and Tsalka municipalities of Samtskhe-Javakheti and Kvemo Kartli regions along the Baku-Tbilisi-Ceyhan and South Caucasus Pipelines.
"On behalf of BP I am very pleased to have a strong partner in face of USAID/Zrda. Our mutual efforts and experience have helped increase benefits of the community development initiative. This partnership with local government, donors, business and implementing partners enables us continue supporting sustainable development programs in Georgia for local communities and wider society," added BP Head of Country Ann Davies.
USAID Zrda co-finances joint projects in these 41 villages through technical assistance, training and small grants activities, contributing up to USD 300,000 to the joint program. BP, on behalf of its oil and gas partners, is investing USD 2 million in the broader Community Development program, the current phase of which is being implemented during 2018-2021 in 218 communities, including in 41 villages under the joint program with USAID/Zrda.