Memorandum of cooperation with the USAID Economic Security Program signed in Ministry of Economy
By Nika Gamtsemlidze
Thursday, January 23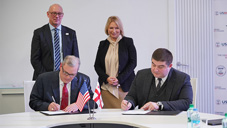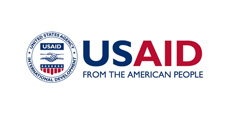 Minister of Economy and Sustainable Development, Natia Turnava and Mission Director of USAID/Georgia Peter A. Wiebler attended the signing ceremony of the memorandum, which was signed between USAID Economic Security Program, National Agency for State Property and Sustainable Development and Enterprise Georgia. The signing ceremony was held at the Ministry of Economy and Sustainable Development.
The memorandum was signed by Mark McCord, USAID Economic Security Program Leader, Giorgi Dugladze, Chairman of the National Agency for State Property, and Mikheil Khidureli, Director of Enterprise Georgia.
The goal of cooperation between the state agencies in the Economy and Sustainable Development is to help those agencies to promote employment and investment potential of micro, small and medium-sized enterprises and help them increase their sales and revenue.
"The US government is giving unprecedented support to Georgia, which has been confirmed by numerous acts, including Georgia's bipartisan support in the US Congress," said Turnava.
According to her, USAID's Economic Security Program will help develop Georgia's priority economic sectors. "We are talking about areas that will bring new technologies and knowledge to the economy. At the same time, we need to support traditional areas where there is a large employment component. They include textile, processing industry and others. It is very important for us that the US government continues to support us so intensively," noted the Minister.
As the director of USAID/Georgia Peter A. Wiebler said, USAID has long been working successfully with the Georgian government in sectors such as energy, agriculture and other sectors of the economy.
"The collaboration aims to identify important interventions that will affect the priority sectors of the economy, as well as through various links and support for product development, promote high-paying jobs and increase foreign and private sector investment in Tbilisi and other regions of Georgia," said Peter A. Wiebler.
Before the signing, a meeting was held between the parties highlighting the overall support and successful work of the program with the Ministry's subordinate agencies, including the National Tourism Administration, the Georgian Innovation and Technology Agency and the Mountain Resorts Development Company.
USAID Georgia Economic Security Program was officially launched on January 7, 2019. The five-year program aims to foster broad growth of micro, small, and medium enterprises (MSMEs) outside of agriculture that show strong potential to create jobs, increase income, and support diversification to ensure more productive economic activities in various sectors including tourism.
The program is being implemented by DAI Global, with support from partner organizations – PMCG and Solimar International. The collaboration will be focused on scaling up the economic impact through synergy, strategic partnerships and investments as well as building collaborative alliances within and between the private sector, government, and civil society.