Energy Week Georgia 2020 opens in Tbilisi
By Nika Gamtsemlidze
Thursday, January 30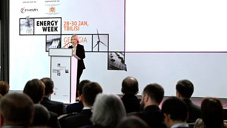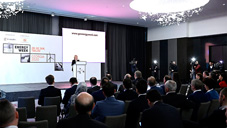 Minister of Economy and Sustainable Development Natia Turnava opened the international investment forum, Energy Week Georgia 2020 with 300 delegates from more than 15 participating countries.
According to Turnava, the large-scale reform implemented by the government and the Ministry of Economy and Sustainable Development in the energy sector aims to make Georgia's energy market look like the European energy market, to become more open, competitive, and more secure.
"As part of the reform, part of the deregulated market has grown, and energy exchange has been established, and Parliament has adopted a legislative framework for reform. Thanks to the ongoing reform in the energy sector, the pressure on tariffs that businesses have demanded has been reduced and despite all the challenges we have been able to keep tariffs unchanged for the population and small businesses," noted Turnava.
According to the Minister, the reforms helped to attract investments in the energy sector. Turnava named a number of them, including Namakhvani HPP, which will move into the construction phase this year, as well as four 250 MW wind farm projects already approved by the Georgian government and investors are currently awaiting construction permits.
"The privatization of the Gori Wind Station has been a great success, proving it to be a sustainable and attractive project. We are also planning to launch solar power projects. Most importantly, the opening of the market has made it possible for small and medium-sized HPPs to develop without any guaranteed purchase tariff. There are already 24 such projects. We will continue this process," said the Minister of Economy and Sustainable Development.
During the week, Georgia's energy challenges, energy efficiency solutions, promotion of renewable energy use and energy efficiency measures will be discussed, as well as ongoing energy sector reform and major investment projects. Besides, the issues of strengthening international cooperation in the field of energy will also be discussed.
The event is organized by the consulting company 'Invest In-Network.' The company provides energy consulting services to emerging markets.
Invest In Network is a UK based company specialized in power industry consultancy for emerging markets. It connects international investors, EPC, technology and solution suppliers to prospective partners and clients in countries with huge untapped potential in the Caucasus, Central Asia, and Eastern Europe.