Five opposition parties had their party lists annulled by the Central Election Commission today
By Veronika Malinboym
Wednesday, December 16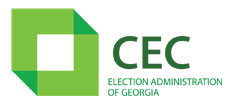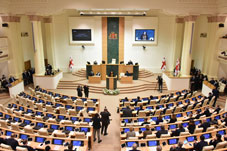 Following the memorandum and official request of Georgia's five opposition parties, the Central Election Commission (CEC) has annulled their respective party lists. This means that the candidates of European Georgia, United National Movement (UNM), Lelo for Georgia, Strategy Agmashenebeli, and the Labour party will not be able to replace the MPs who refused to claim their mandates after the October 2020 Parliamentary Elections. Opposition parties refuse to recognize the election results on the grounds of alleged falsification and demand for the elections to be repeated.
The memorandum was not signed by Girchi and Alliance of Patriots, which each won a total of 4 seats, as well as Aleko Eliashvili's Citizens (two seats) and the Republican bloc of the UNM. Moreover, 8 out of 14 parties that won at least 1% of the votes during the October Elections, have already requested the annual state funding.
The 10th Parliament Session was held on December 11, and no opposition parties attended. The International Society for Fair Elections and Democracy (ISFED) has adjusted its parallel vote tabulation (PVT). According to the new figures, the United Opposition bloc received 1% more votes and the ruling Georgian Dream party received 1.8% more votes. The ruling party responded by pointing out another severe mistake in the NGO's data, namely the initially reported imbalance between the number of ballot papers and registered voters.
The country remains in a de facto one-party state, and the political crisis is yet to be resolved, despite the significant efforts of the diplomatic corps to hold negotiations between the ruling party and the opposition bloc. On top of calling for the new elections, the opposition demands large-scale electoral reform (including the country's Central Election Commission), as well as the immediate release of the political prisoners: Iveri Melashvili, Giorgi Rurua, and Natalia Ilichova.
In turn, the ruling Georgian Dream party stated that they will be willing to repeat the elections if the temporary investigative committee, created by the 10th convocation of the Georgian Parliament finds any evidence of the violation of the proper conduct of the October elections. Georgian Dream's Executive Secretary, Irakli Kobakhidze went as far as to claim that he is so confident that not even 0.1% of the ruling party's votes were rigged, that, if the opposite turns out to be true, he will be willing to quit politics altogether.
The current political crisis is unfolding amidst the second wave of the COVID-19 pandemic, which leaves the country especially vulnerable to both external and internal threats.