Six MEPs condemn breaching of privacy and 'unflattering' attitude towards EU Ambassador to Georgia
By Veronika Malinboym
Monday, February 8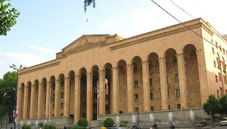 On Saturday, January 6, six members of the European Parliament expressed their concerns over the recent statements from Tea Tsulukiani, MP of the ruling Georgian Dream party. MEPs working on issues such as Viola von Cramon, Michael Grahler, Andrius Kubilius, Sven Mikser, Petras Austrevicius, and Marketa Gregorova sent a joint letter concerning the "unethical incident at the Georgian Parliament" in which Tsulukiani "carelessly breached privacy" by her publicly citing a phone number of the director of opposition-minded TV channel, Mtavari Arkhi during the Parliament's plenary session. EU Ambassador to Georgia, Carl Hartzell, who was present at the session, referred to the incident as 'unethical'. In response, Tsulukiani requested a private meeting with Hartzell and later told journalists that his remark expressed his personal opinion and not that of the EU.
The joint letter sent to the Parliament Speaker Archil Talakvadze wrote that is "regrettable, very unpleasant, and unethical when the fundamental right of privacy is carelessly breached in the walls of your institution" and "equally regrettable and simply in bad taste when the EU ambassador's accurate assessment of the events prompts a request of justification from your colleagues".
"Ambassador Hartzell, who during the last months spared no efforts in making sure that Georgia has a functioning, pluralistic and democratic parliament, does not merely express 'his personal opinion' but voices those fundamental EU values that your country also claims to aspire to," MEPs wrote.
The letter also reminded that when the members of the newly elected Georgian Parliament visited Brussels to present "an ambitious goal of applying for EU membership in 2024", they kindly reminded that ambitious political goals require equally ambitious democratic standards, which is why the mitigation of polarizing language was so important amidst the joint efforts to resolve the ongoing political crisis.
Finally, in their joint letter MEPs expressed their hopes to soon be able to see a pluralistic and transparent parliament, "just like the voters intended it to be". They also called for Talakvadze as the acting chairperson "to ensure a high level of decorum in the plenary hall, which will allow for constructive debates and effective oversight on legislation."
Nika Gvamaria whose phone number was Tsulukiani revealed, said that it was a pre-thought move against him. He added that he believes that the Georgian Dream intends to scare him, make him fear the court, fear for his life and his family's well being. Gvaramia added that he refuses to give up.