New leader of UNM Nika Melia may be facing arrest for refusing to pay bail
By Veronika Malinboym
Monday, February 8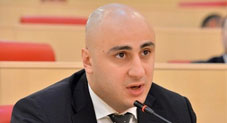 On February 5, the Office of Chief Prosecutor of Georgia announced that the newly appointed chair of the United National Movement opposition party Nika Melia is facing pre-trial detention for refusing to pay a bail of GEL 40,000.
Melia was found guilty of inciting violence during the June 2019 protests in Tbilisi and was released on bail in November 2020. According to the court's verdict, Melia was supposed to wear a monitoring bracelet, but he took it off publicly in November 2020. The bail was to be posted no later than December 24, 2020.
The UNM party leader announced that he refuses to pay bail and referred to the ongoing investigation against him as 'absurdity'. He added that his decision is a part of a 'rightful struggle':
"I am not going to pay anything, and they won't be able to arrest me either. I have a full respect for the governmental institutions, but when the Chief Prosecutor's Office is owned by Shotadze and Partskhaladze, courts belong to Murusidze and Chinchaladze and the Parliament represents Kobakhidze and Gavrilov, I have no moral right to participate in this web of lies", Melia said. The politician refused to answer additional questions the journalists asked him and did not comment on whether or not he is planning to visit the Chief Prosecutor's Office.
Nika Melia was also involved in a high-profile Cartu Bank case which led to the suspension of his MP status by the Georgian Parliament in December 2019. He was also banned from taking public office for two years and three months and was required to pay a GEL 25,000 fine for his role in the case as the former head of the State Enforcement Bureau.
The Chief Prosecutor's Office released a statement, claiming that even though Melia owned real estate sufficient to pay his bail, he refused to pay the bail on time, but would still be given another week to do so. Should he fail to pay the bail within the given week, the Chief Prosecutor's Office will apply to the court to change the current sentence to pre-trial detention. The statement added that his decision to remove the electronic monitoring bracelet "practically removed any possibility for the proper conduct of his case".