Schools reopen, vaccination to begin by the end of February
By Veronika Malinboym
Tuesday, February 16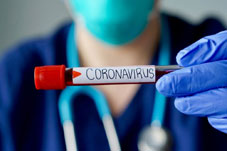 According to the statement made by Deputy Minister of Health Tamar Gabunia, the vaccination program is expected to begin at the end of the month. Gabunia noted the relevant staff is already undergoing the necessary training.
The Deputy Minister stated that Georgia will receive 400,000 doses of vaccines via the COVID-19 Global Access Facility (Covax) platform.
"The first quarter is the hardest as the volumes of vaccine manufacture will soon increase gradually and it will be easier to acquire vaccines directly from the manufacturers in the third and fourth quarters. The Covax platform can only offer about 400,000 doses; the remaining 2,5 million should be acquired elsewhere."
The minister explained that the country will gain the remaining 2,5 million doses through negotiations with the EU countries as well as from vaccine manufacturers. Gabunia noted that the first batch of Pfizer vaccines are expected to arrive by late February and will be provided to health workers first. Earlier last month, representatives of the thirteen states of the EU called for the creation of a support mechanism for the Eastern Partnership countries to ensure that they receive a vaccine against the COVID-19 as soon as possible.
A number of healthcare-related restrictions have been removed in Georgia today. Schools have reopened in Tbilisi, Rustavi, and Kutaisi; food facilities are now permitted to offer their services in the outdoor spaces. The government-imposed curfew lasting from 21.00 to 05.00 remains in place until the 1st of March, and public transport, food facilities ( except for delivery services), and open markets are prohibited over weekends.
As of the last 24 hours, 165 new cases of coronavirus have been reported, as well as 639 recoveries and 11 deaths. 3, 601 individuals remain infected. The total number of COVID-19 cases confirmed since February last year has reached 265,722.