Civil unrest continues, opposition promises more rallies to follow
By Veronika Malinboym
Monday, March 1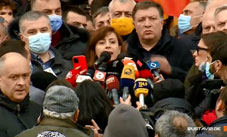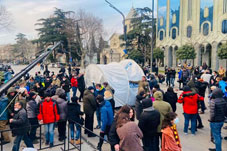 On February 26, Georgian opposition parties continued to protest against the detention of the leader of the United National Movement party Nika Melia. The rally took place on Rustaveli Avenue in front of the Georgian Parliament building. The protest began with the national anthem of Georgia.
Protestors put up several tents in front of the Parliament building, one of which was placed on the road but later relocated to the pavement upon the police request. The activists also promised that if their demands are not satisfied within the next two weeks, they will start placing tents on the road and interrupt the car movement on one of the main streets of the capital.
The opposition announced several more protests to take place in the next two weeks. On March 2, the opposition is planning a picket in front of the Georgian Parliament, another picket is scheduled for March 5, and it is supposed to take place outside of the government building. On March 11, protestors are planning to gather outside of the Court, which the opposition considers to be the main "symbol of the current regime." March 13 is marked as the day of nation-wide protests in Georgia.
United National Movement member Tina Bokuchava said that the rally was not aimed at hindering MPs from entering the Parliament.
"This gathering was mostly aimed at discussing the next protest that will take place on March 2, in front of the Parliament building. We are not trying to interrupt the movement of the so-called MPs on the pavement. They will, however, be forced to get out of their expensive cars on the road, as a result of our peaceful protest, because we are planning to protest on the road," said Bokuchava.
The protests sparked, when Nika Melia, leader of one of the United National Movement – one of the largest opposition parties in Georgia, was arrested in a SWAT operation at the party's office. He is now charged with publicly violating the conditions of his bail by removing the tracking bracelet at one of the rallies in November 2019 and refusing to post his bail payment, despite being repeatedly asked to do so. Melia, who still refuses to pay the bail, has recently sent a letter from prison in which he said that he never felt as 'free as he feels right now' and urged people 'to fight for freedom until the end'. Melia was found guilty for inciting violence during the June 2019 mass protests in Tbilisi.