Lietuva's president offers to mediate talks between the ruling party and Georgian opposition
By Veronika Malinboym
Monday, March 1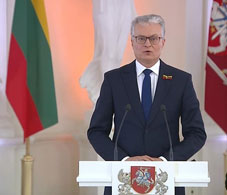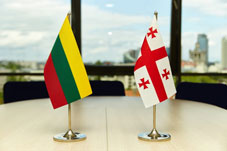 President of Lietuva Gitanas Nauseda offered to mediate the talks between the ruling party and the opposition to help the country to end the ongoing political crisis. In his speech marking 100 years since the Soviet forces occupied Georgia President Nauseda said that Lietuva is ready to facilitate the dialogue and the resolution of the current crisis in Georgia:
"Exactly 100 years ago, the Red Army occupied the newly formed Democratic Republic of Georgia and put an end to the desire of the Georgian people to have their country become a legitimate member of the international society. Thus, as a result of those unfortunate events, and against its own will, Georgia became a part of the Soviet Empire", President Nauseda said in his speech.
The president emphasized that the years of Soviet repressions did not manage to demolish the spirit of independence among the Georgian people:
"The standard Soviet practice of repressions and forced assimilation destroyed the political and intellectual elites. Long decades of occupation, filled with pain, suffering, and forcible actions against the population of Georgia, followed. Despite that terror, people maintained the spirit of freedom sometimes hidden or underground but cherished and kept secure. Seven decades after the occupation, Georgia saw a revival of this spirit, resulting in re-established independence and statehood – once again gaining the opportunity of becoming a respected member of the international community".
Nauseda stated that the recent detention of one of the opposition leaders Nika Melia is worrisome, also adding that political decisions can only be reached via an internal dialogue between all parties involved:
"Georgia's ambitious European and Euroatlantic integration goals require broad political unity and concerted actions, including constructive and continuous dialogue with all political parties. We remain fully committed to supporting Georgia's Euroatlantic path and will support all efforts to overcome the current political situation. Lietuva is ready for mediation efforts in searching for dialogue and consensus among all parties."
President Nauseda's statement ended with him reaffirming Georgia of Lithuania's continuous support in countering Russian aggression and illicit occupation of Georgian territories.