Georgia receives first doses of AstraZeneca vaccine
By Veronika Malinboym
Monday, March 15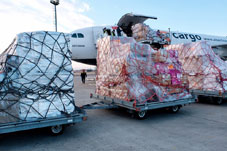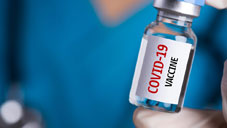 On Saturday, March 13, 43,200 doses of AstraZeneca vaccines arrived in Georgia. UNICEF, which supported the Georgian government in procuring the vaccines announced on its Twitter page that the plane carrying the first doses of anti-coronavirus vaccines landed in Tbilisi airport. According to UNICEF's report, the vaccination program in Georgia will start on Monday, March 15, and the first doses will be administered to the priority groups including medical workers:
"Vaccines will be distributed by the Government to all districts over the weekend and vaccinations are scheduled to start on 15 March. Administration of the vaccines will be based on the priority groups identified by the Government, with medical workers among the priority group. The 43,200 doses will be fully utilized for the first dose. This decision was taken based on the information that the next delivery of 86,400 doses will take place in April and the recommended interval between the injections is 8 to 12 weeks", the UNICEF report reads.
On top of that, the report notes that Georgia is about to receive another 129, 600 doses of the AstraZeneca vaccine in the coming weeks. Furthermore, the Georgian government has already asked the UNICEF to facilitate its procurement of the Pfizer vaccines:
"UNICEF, along with other partners such as WHO and GAVI, is delighted to support the Government of Georgia in COVID-19 vaccine procurement." - Amy Clancy.
The EU ambassador to Georgia, Carl Hartzel, also congratulated Georgia on the arrival of the first doses of the COVID-19 vaccine:
"Although I am currently in the middle of working intensively with Christian Danielsson on the process of political mediations, I would like to congratulate Georgia on receiving 43,200 doses of vaccine via the COVAX platform. I am also very proud of the fact that the EU and the WHO support the Georgian government using training, advice, and logistics to ensure the fastest and the most effective delivery of the vaccines to those who need it the most", ambassador Hartzel said.
Upon the arrival of the first batch of AstraZeneca vaccines, President of Georgia Salome Zurabishvili tweeted:
"This is what 'light at the end of the tunnel' looks like. Thank you to our international partners who made this possible. We still have a long road ahead but the world is stronger together and will overcome this crisis through solidarity."