European Union mediator holds a series of meetings with political parties in Georgia
By Veronika Malinboym
Monday, March 15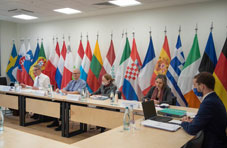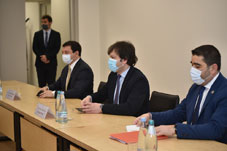 The EU-appointed mediator, Christian Danielsson, began a series of meetings with Georgian political parties, both the ruling Georgian Dream party and members of the opposition. Upon his arrival to Georgia, Danielsson told the press that the main topics for the upcoming negotiations would revolve around the issue of political prisoners, politicized justice, and electoral reform:
"Electoral reform, politicized justice – those are the issues that we should be considering closely, the issues that will become the [primary] topics of the upcoming negotiations. In the days to come, we are ready to work on resolving those issues," Danielsson said.
Christian Danielsson has already held a meeting with the opposition United National Movement party, whose leader, Nika Melia, currently remains in detention on charges of repeatedly refusing to post his bail, as well as violating the conditions of his bail. Danielsson has also met with the ruling Georgian Dream party, as well as other opposition parties that won the seats in Parliament during the October 2020 elections: Strategy Agmasehenebeli, Girchi, Alliance of Patriots, European Georgia, Citizens, Patriots, and Lelo parties. The European Union delegation to Georgia also reported that Danielsson has already met with PM Irakli Garibashvili and President Salome Zurabishvili.
Leader of the Strategy Agmashenebeli opposition party Giorgi Vashadze later explained that the meeting was rather introductory, and an opportunity for parties to outline their positions amidst the ongoing crisis. Vashadze did, however, mention that the issue of political prisoners as well as the holding of early elections did remain the main priority of the meetings.
Similarly, the Girchi party mentioned that during the meetings, the release of the political prisoners was discussed as a 'precondition' for solving the ongoing crisis among the political parties.
Speaker of the Georgian Parliament and a member of the ruling Georgian Dream party, Archil Talakvadze, has also commented on the possible beginning of the negotiations, marked by the arrival of Christian Danielsson. He said that Georgian Dream is ready to agree with the country's opposition bloc, should the conditions of such an agreement be just:
"I would like to tell you that Georgian Dream is ready to agree if the terms of such an agreement are just… We value the position of our allies and, of course, we would like to come to an agreement that will be able to guarantee a stable, long-term political cooperation in our country," Talakvadze said.