Georgia's opposition issues a joint statement, announces large-scale rally in May
By Veronika Malinboym
Monday, March 22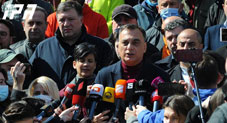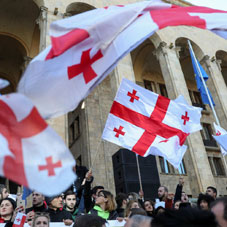 Shortly after the EU-mediated talks between the country's opposition and the ruling party failed to achieve any meaningful results, the opposing bloc released a joint statement, announcing an emergency mode. In his speech given in front of the Georgian Parliament building, Zaal Udumashvili, a member of the opposition United National Movement party, provided an overview of the opposition's new strategy and the next steps it is planning to take.
According to Udumashvili, on May 15, a large-scale opposition rally will be held on Rustaveli Avenue, and before that, several other protests will be arranged both in the capital and in the regions:
"From this day onwards, the opposition will be working in an emergency regime, meaning that we will visit every city, every village, every family and will convince the Georgian people that our struggle is necessary and that the truth is on our side. During this period, several protests, both in Tbilisi and in the regions will take place. Finally, we will meet on May 15, here, on Rustaveli Avenue. The opposition is now adopting a perpetual disobedience regime. It will be a harsh, perpetual protest, which, in the end, will bring us to victory and facilitate positive changes within the country."
The opposition claims that the ruling Georgian Dream party is to blame for the 'failed' EU-mediated talks, which ended as a result of the "Dream's destructive and anti-state actions". Udumashvili also added that by jeopardizing the process of negotiations, the ruling party "closed the door to Europe".
The opposition bloc, whose members still boycott the seats they won in Parliament during October 2020 Parliamentary Elections, demand the immediate release of political prisoners and the holding of repeat elections. Since November 2020, the dip corps have facilitated four rounds of negotiations between the ruling party and the opposition, however, no agreement was achieved.
On March 1, President of the European Council, Charles Michel relaunched the dialogue between the political parties of Georgia, and his efforts were later taken over by President Michel's appointed representative, Christian Danielsson. Danielsson arrived in Georgia on March 12 and left the country on March 19 after announcing that parties failed to find common ground.