Enguri HPP to resume operating in May, after six months of repair works
By Veronika Malinboym
Tuesday, March 30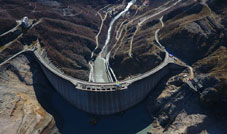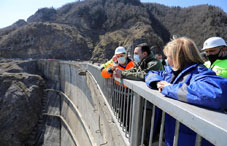 The Enguri Hydropower Plant is expected to resume generating electricity in May this year, Prime Minister Irakli Garibashvili announced today. He added that the renovation of the Enguri HPP which began in January, is one of the largest renovation works that have been carried out on the power plant during the last 20 years, and the total cost of the Enguri HPP renovation project amounted to 42 million euros, 7 million of which were received from the European Commission in a form of a loan, and the remaining 35 million euros were taken out as a loan from the European Bank of the Construction and Development.
Minister of Economy Natia Turnava, who visited the Enguri power plant along with PM Garibashvili, referred to the HPP as the symbol of Georgia's economic independence:
"Our government will do everything in its power to strengthen the future energy independence of our country, and build more HPP based on the existing resources", Turnava told the journalists.
She added that the country will continue to develop alternative sources of energy, such as solar energy, wind power, and eco-friendly hydrogen energy, however, according to Turnava.
"HPPs such as dams and reservoirs will continue to serve as a guarantee that in the future, Georgia will not depend solely on the import:"
"Enguri HPP has existed for more than half a century already, and it is our national heritage that was left to us by the previous generation. It is also a very important HPP that strengthens our energy independence and sovereignty. Without Enguri, our sovereignty would have been under a threat. This HPP unites Georgia as it serves the whole country, including our brothers and sisters in Abkhazia, and it is our treasure", Turnava added.
The repairment works on Enguri HPP began in January this year, and the plant was completely shut down because the main part of the facilities which needed repairing the most – the drainage tunnel, required the station to be emptied completely. The winter and spring months were specifically selected for the large-scale renovations, as during this time, the water resources of the Enguri HPP are usually the lowest.