Parliament Speaker Archil Talakvadze resigns
By Veronika Malinboym
Monday, April 26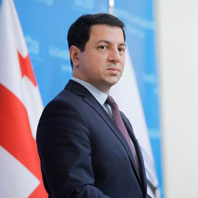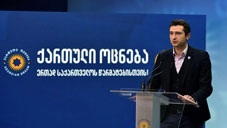 On Saturday, April 24, Parliament Speaker and Georgian Dream party member Archil Talakvadze announced his resignation. Talakvadze explained that his decision came shortly after the recent negotiations with the country's opposition bloc and the EU-proposed agreement that followed it:
"Considering the fact that months of tense negotiations have now resulted in reaching an agreement, I think it would be appropriate for me to resign as a speaker of the parliament and have another person take on my role and handle parliamentary activities with more neutrality [...] Now that we have representatives of the opposition in the Parliament, I think my place is in the hall, side by side with my colleagues," Talakvadze said during the news briefing.
Former speaker of the parliament will continue his activities in parliament as a vice speaker while his deputy Kakha Kuchava is currently introduced to Talakvadze's office. During a briefing, Talakvadze stated that it was an honour for him to act as a speaker of the parliament's 9th and 10th convocations:
"I would like to thank my colleagues and citizens of Georgia for their support and patience. We will continue to work together and fight for the country's future success, and we will certainly achieve more victories and guarantee the success of our country", Talakvadze added.
Kakha Kuchava was a deputy speaker of the 10th convocation of the Georgian parliament, as well as a member of the 9th convocation of the parliament when he served as Chairman of the Committee on Environmental and Natural Resources. Kuchava has been a member of the Georgian Dream - Democratic Georgia faction since 2016.