Lithuanian Minister of Foreign Affairs pays visit to Georgia
By Veronika Malinboym
Friday, April 30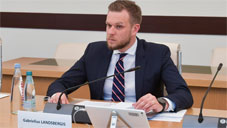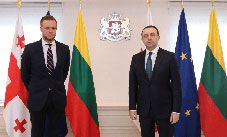 On April 28, Minister of Foreign Affairs of Lithuania Gabrielius Landsbergis arrived in Georgia. Upon his arrival, Minister Landsbergis met with Prime Minister of Georgia Irakli Garibashvili, who used the opportunity to thank Lithuania for its unwavering support towards Georgia's Euro-Atlantic aspirations, as well its territorial integrity and humanitarian assistance that Lithuania provided to Georgia amidst the outbreak of the COVID-19 pandemic. During the meeting, the politicians addressed the bilateral partnership between the countries, as well as the scarce political situation in the regions of Abkhazia and South Ossetia.
Lithuanian Minister also held a meeting with the President of Georgia Salome Zurabsihvili and Georgian Minster of Foreign Affairs David Zalkaliani. During the meeting with Minster Zalkaliani, Gabrielius Landsbergis reinstated that Lithuania's unwavering support and partnership with Georgia would continue undisrupted regardless of the political tensions that the country is currently experiencing.
Earlier yesterday, Gabrielius Landsbergis along with the EU Monitoring Mission in Georgia (EUMM) visited the administrative border line by the Russian-occupied Tskhinvali region of South Ossetia. During the trip, Landsbergis visited the Odzisi controlled crossing point, which has been closed for more than 600 days now. Minister Landsbergis was also briefed on the security developments in the region, specifically the negative impacts of borderisation, on the severe human rights violation, and other acute issues that were shared by the head of EUMM mission.
Ambassador Marek Szczygiel also made a statement:
"During the visit, the Head of Mission offered his insights on the most recent security developments on the ground. In particular, he stressed the negative impact that 'borderisation' features, such as wire fences, have on the freedom of movement and other human rights of the conflict-affected communities, as well as on their humanitarian needs," the EUMM official press release read.
Lastly, as his official visit came to an end, the Lithuanian FM held a press conference, in which he addressed the ongoing political situation. In his statement, Landsbergis stressed the necessity of complete implementation of the April 2019 agreement reached between the ruling party and some members of the country's opposition bloc and urged Nika Melia to take into account the EU guarantees that the current proposal offers:
"The signing of the agreement was a very important first step. Other steps include issues related to addressing politicized justice, ambitious electoral and judicial reforms, as well as sharing power in the Parliament. And let me state this very clearly: the April 19 agreement must be implemented, without any deviation and in its entirety."
I encourage Mr. Melia to consider taking the guarantees offered by European political interlocutors.
"It is very important that all political parties and elected parliament members join the agreement and commit to its implementation," Lithuanian FM stated.