Georgian NGO condemns attack on LGBTQ+ activists in Tbilisi, calls on Interior Ministry to persecute perpetrators
By Veronika Malinboym
Monday, May 17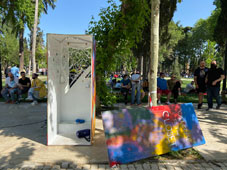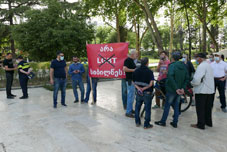 The Georgian Democracy Initiative (GDI) strongly condemned an attack on the LGBTQ+ activists and demanded Ministry of Interior to launch an immediate investigation and persecute those respnonsible for the incident. The attack took place on May 15, in Dedaena park in Tbilisi, where the LGBTQ activists installed a cabin with an insctiption "Welcome to the closet." It has been reported that Guram Palavandishvili, leader of the violent homophobic group, entered the cabin and damaged it from the inside, and verbally assaulted the activists. The police arrived at the place of the incident 10 minutes later, and removed Palavandishvili from the location, however, did not arrest him. Several Palavandishvili's supporters carrying homophobic banners remained at the location, however, were denied entry into the activists' installation by the law enforcement agents who also remained at the spot.
The installation at the Dedaena Park marked the celebration of the International Day Against Homophobia, Transphobia and Biphobia. Earlier last week, Georgian Ministry of Interior issued a statement in which it promised to guarantee public safety and freedom of expression during the May 15-20 celebrations:
"According to the information provided to the Ministry of Internal Affairs, various events will take place in public places of Tbilisi on May 15-20 in connection with the International Day Against Homophobia, Transphobia and Biphobia. […..] The police ensures the protection of public safety and order, as well as the freedom of expression of each individual, which should not exceed the limits allowed by the law. Any other action, which may endanger the safety of citizens and their health, will be adequately responded by the police", the official statement reads.
In response to the May 15 attack, GDI issued its own statement claiming that the Interior Ministry should response harshy to both the incident at Dedaena Park and any other incidents of such a nature:
"…It is extremely important for the Georgian government to show political will and fight crimes /offenses committed on the grounds of homophobia, while at the same time giving LGBTQ activists the opportunity to fully enjoy the freedom of assembly and demonstration," the NGO stated.