Georgian parliament suspends voting on the amnesty bill
By Veronika Malinboym
Wednesday, May 26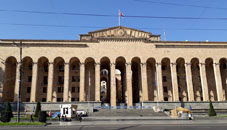 After the meeting with the speaker of the parliament, leaders of the parties that have already entered the Georgian Parliament have announced that the voting on the amnesty bill will be suspended. MP from the ruling Georgian Dream party Anri Okhanashvili stated that no agreement on the issue has been reached and the discussion will continue later this week:
"We will meet on Thursday to discuss it again. We have strong arguments. The opposition believes that they have opinions and they want us to think about them again. Of course, when we signed this document [ the EU-brokered agreement of April 19], we have all realized that we have a responsibility to cooperate politically, no matter how much we disagree witheach other", MP Okhanashvili said.
In turn, one of the co-founders of the opposition Lelo for Georgia party said that it is difficult to say how the parliament will pass this bill:
"It's a very difficult question. We have to try to and agree on something. Otherwise we will have to agree to disagree".
The amnesty bill in question is a part of the agreement signed by the ruling party and the opposition bloc which followed a series of EU-mediated negotiations. There are currently two versions of the bill considered in the parliament – one proposed by the ruling party and one drafted by the opposition. Earlier this month, the victims of the June 2019 protests, which the amnesty bill aims to address, sent a joint letter to the ambassador of the EU and the US to Georgia, stating that they are strongly opposed to the provision of amnesty to all those charged with violations which occurred during the protests, including the violations conducted by law enforcement officers. In response, the Ambassador of the US Kelly Degnan and the Ambassador of the EU Carl Hartzell have sent a joint letter to the activist stating that although June 2019 protests will remain as a dark episode in the history of Georgia, but , "it is now vital that all stakeholders ensure its successful implementation in the interest of ending Georgia's paralyzing political crisis."