US Acting Assistant Secretary to visit Georgia
By Veronika Malinboym
Monday, June 7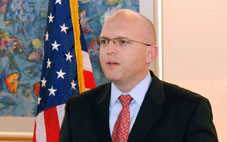 Acting Assistant Secretary for European and Eurasian Affairs Philip T. Reeker will be visiting Georgia, the US Embassy in Tbilisi has announced. Reeker will also visit Azerbaijan and Armenia between June 6-13 "to advance bilateral and regional priorities and to express U.S. support for democratic and economic development across the region."
"Acting Assistant Secretary Reeker will the Georgian government, opposition, and civil society leaders to discuss the full implementation of the April 19 agreement among Georgian political parties as well as Russia's ongoing aggression against and occupation of Georgia.
In Armenia and Azerbaijan, Acting Assistant Secretary Reeker will meet with the Georgian government, civil society, and business leaders to discuss bilateral priorities and issues related to the Nagorno-Karabakh conflict," read the statement of the US Embassy.
The announcement came shortly after the completion of the US delegation led by Senators Jean Shaheen and Rob Portman's visit, during which the Senators visited the occupation line and met with the government officials, members of the opposition, and representatives of the civil society. Senators reiterated the US' unwavering support for Georgian democracy and reinstated that Russia is attempting to intimidate those countries that have chosen the Euro-Atlantic path, which is why the US Congress Delegation is eager to support such countries in the region:
"It is clear that Russia is trying to intimidate the countries of the region that have chosen Euro-Atlantic integration and the Western path because they see a better life than Russia can offer them," Senator Shaheen said.
During the US delegation visit, it has also been announced that the US will provide Georgia with the Covid-19 vaccines, however, the time of their arrival and the number of doses is still unknown:
"The White House has officially confirmed that Georgia will be one of the countries that will receive Covid-19 vaccines from the United States. We do not know the exact numbers, but we are very pleased," Senator Shaheen announced.