Shukruti village activists end hunger strike, reach an agreement with Georgian Manganese
By Veronika Malinboym
Friday, June 11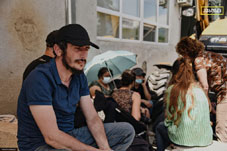 Residents of the Shukruti village ended their hunger strike in protest of Georgian Manganese's activity after the company has agreed to compensation.
In its statement released earlier today, Georgian Manganese noted that the compensation that the residents of the village and the company has agreed on will be paid in accordance with the assessment of the damage conducted under the memorandum signed between the village and the company or the assessment of the Levan Samkharauli National Forensics Bureau, the activity of which will also be compensated by Georgian Manganese:
"As a result of constructive negotiations, the sides have agreed to have two alternatives for the conducting of the assessment of the damage. The assessment will either be carried out based on a model which is outlined in the existing memorandum signed by the company and the village, or, upon the request of the village residents, the assessment can be carried out by Levan Samkharauli National Forensics Bureau. The agreement reached between the two sides is confirmed by a document and is legally binding. Individual contracts are also signed by the special manager of Georgian Manganese and the protesters," the company's official statement reads.
Three residents of Shukruti village in Chiatura of Imereti region of Western Georgia have previously sawn their mouths shut to protest against the environmental damage caused by the Georgian Manganese mine, which produces and exports ferroalloy and manganese ore. The activists then protested in front of the US Embassy in Tbilisi "to have their voices heard."
Residents of the Shukruti village demanded that the company compensate for the damage it had caused, while the company's official position revolved around the claim that the damage was caused during the Soviet period and had already been compensated back then. One of the residents of the Shukruti village, Jano Labadze said in an interview with the Georgian service of Radio Liberty/ Radio Free Europe that are currently 280 families living in the village, and some of their houses have already been damaged to the uninhabitable condition.
Residents of Shukruti village also protested in September 2019 and blocked the road leading to the mines, which ended up stopping their operations.
Back then, a special commission was set up to assess the damage and process compensations to the villagers, but in vain.