Opponents of Namakhvani HPP and Georgian government reach partial agreement
By Veronika Malinboym
Monday, June 14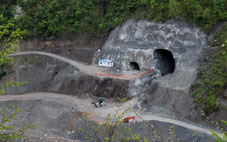 For the first time since the protests against the construction of the Namakhvani hydroelectric power plant broke out in October 2020, the activists and the government authorities have been able to come to a partial agreement. Representatives of the Georgian government and the activists have met for the first stage of negotiations facilitated by the EU Energy Consolidation Dispute Resolution and Negotiation Center.
The parties managed to agree to the following three clauses: a risk assessment of the construction of the Namakhvani HPP will be conducted; all the fences at the construction site will be removed and free movement of the local residents will be ensured; the government of Georgia will create a 10- year plan for the country's energy security.
The parties have also agreed to continue negotiations, however, at this stage, representatives of the project's main investor – the Turkish company Enka did not attend.
The project of building the Namakhvani power plant in the Rioni gorge of Western Georgia has sparked a wave of protests, as activists, supported by a number of environmental experts, believe that the construction may pose serious seismic and ecological risks to the area, as well as leading the locals having to leave their homes and relocate elsewhere. The protests under the "Protect the Rioni gorge" slogan have been going on for several months, despite the efforts of the local law enforcement agents to disperse them and prohibit access to the protest site.
The project of building the Lower and Upper Namakhvani power plants with a total capacity of 433 MW is being realized by one of the Turkish largest companies ENKA with the direct support of the government of Georgia. The government's main argument in favor of the construction is that the new power plant, can, potentially, ensure Georgia's energy independence, as the Namakhvani HPP would become the country's largest project since the Enguri HPP constructed during the Soviet Era.