Covid-19 vaccinations will soon be available in shopping malls in Georgia
By Veronika Malinboym
Wednesday, June 16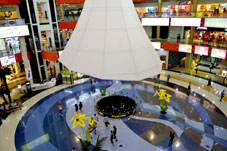 Earlier yesterday, Deputy Minister of Health Tamar Gabunia announced the opening of vaccination centers in the shopping malls across Georgia. According to Gabunia, starting July, when the country is expected to receive an additional batch of vaccines, a large-scale immunization programme will be launched and additional vaccination centers will be created across the country.
According to the head of the National Center for Disease Control Amiran Gamkrelidze, Georgia has already passed the peak of the third wave of pandemic in the mid-May and the mortality rate that has increased as a result is now expected to decrease gradually:
"We went through the peak in mid-May and after 2-3 weeks, after of the peak, the number of deaths has increased. Now, with this indicator is decreasing in the country, and it will continue to do so, we increase the infection rate. But as you know, each death is a tragedy", Gamkrelidze said.
Gamkrelidze added that the period of four months, after which those who have contained coronavirus are able to get vaccinated, will be decreased in Georgia starting from July, when additional doses of vaccines are delivered. Gamkrelidze added that it is not yet known how fast such individuals will be able to get vaccinated:
"In many countries, it is 1-2 months, in some this period is only 2 weeks. We will assess the international best practices and reduce the waiting period in July, perhaps".
As of June 15, a total of 1,092 new cases of Covid-19 have been confirmed in Georgia, as well as 23 deaths and 775 recoveries. The total number of Covid-19 cases in Georgia since February 2020 has now reached 355,368, 341,103 of which have recovered and 5,083 have died.