Georgia's High Council of Justice elects candidates despite calls for postponement
By Veronika Malinboym
Friday, June 18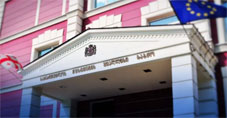 The Georgian High Council of Justice has selected nine candidates to become judges for the country's Supreme Court. The appointment has been made despite repeated calls of foreign diplomats and local NGOs to postpone the process until after the large-scale judicial reform is carried out in the country.
The ambassadors of EU and USA, as well as members of the countries opposition and civil society representatives, have repeatedly called for the appointment to be postponed and for the body to adhere to the EU-brokered agreement signed on April 19.
The new nine appointed candidates are Giorgi Gogiashvili, Gocha Abuseridze, Levan Tevzadze, Ketevan Meskhishvili, Giorgi Shavliashvili, Revaz Nadaraia, Bidzina Sturua, Eka Zarnadze and Lasha Kochiashvili, however, their candidacies must be approved by the Georgian Parliament in order for them to occupy their seats.
Several Georgian NGOs have issues an open letter condemning the High Council of Justice's violating the fundamental clauses of the April 19 agreement. Transparency International, Open Society Foundation, Institute for Development of Freedom of Information, Georgian Democratic Initiative, Center for Social Justice, International Society for Fair Elections and Democracy have expressed the following sentiment:
"Despite numerous calls, including from our international partners, they have not shown the will to improve the judiciary and make real reforms to the system, including changing the rules for electing non-judicial members and making decisions by the board to nominate the best and impartial candidates", the statement reads.
The NGOs added that "such bold steps could not have been taken by the so-called Klan and the High Council of Justice without the unconditional support of the government and commitments to the agreement reached through the mediation of Western partners."
NGOs are calling on the High Council of Justice to end the violations of the EU-mediated agreement on the parliament to launch fundamental justice reform immediately.