Prime Minister of Georgia congratulates Nikol Pashinyan on victory in snap parliamentary elections in Armenia
By Veronika Malinboym
Tuesday, June 22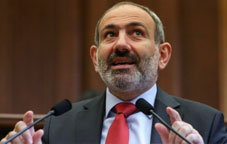 Prime Minister of Georgia Irakli Garibashvili congratulated Acting Prime Minister of Armenia Nikol Pashinyan on his victory in the early parliamentary elections of June 20 in Armenia. In a post on his official Twitter page, PM Garibashvili writes:
"I extend the warmest congratulations to Armenian Prime Minister Nikol Pashinyanon for handling successful elections and victory of the Civil Contract Party according to the preliminary results. I wish all success ahead. I look forward to working closely with the new Armenian Government".
Nikol Pashinyan's Civil Contract party has won in the snap parliamentary elections in a landslide after obtaining a total of 53,92% of votes, according to the preliminary results released by the country's Central Election Commission. The second-largest number of votes has been obtained by the opposition Armenia bloc headed by ex-President Robert Kocharyan. The third political party to enter the parliament is the opposition I Have The Honor bloc of another ex-President, Serzh Sargsyan, with a total of 5,23% of votes, and, despite failing to cross the 7% threshold, it will still be able to enter the parliament.
Armenia has announced early parliamentary elections in an attempt to overcome a political crisis which has erupted shortly after the country's defeat in the second Karabakh war. The opposition then demanded Pashinyan's immediate resignation, however, he claimed that he had been appointed by the will of the people of Armenia and would not leave upon opposition's demand. Soon after, acting PM Pashinyan reached an agreement with the opposition represented in the Parliament and announced his resignation and the beginning of the dissolution of the Parliament.
Pashinyan himself described the victory in the elections as the 'steel' revolution which followed the Velvet revolution of 2018 which he headed. He added in response to his party being too tolerant to the previous authorities that although both revolutions were non-violent, he will make sure to bring to justice those "who accumulated wealth at the expense of Armenian citizens who had to suffer in poverty."