US Ambassador Kelly Degnan on appointment of judges to Supreme Court, municipal elections
By Veronika Malinboym
Wednesday, June 23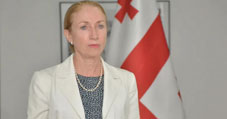 In her speech at the International Society for Fair Elections and Democracy (ISFED) Ambassador of the United States to Georgia Kelly Degnan stated that the process of appointment of judges in the Supreme Court by the country's High Council of Justice should be temporarily suspended until the fundamental judicial reforms outlined in the EU-brokered opposition between the government and opposition of April 19.
"Inclusive, wide-ranging debate and discussion on what kind of judicial reform should be implemented is essential. Until such a discussion is held, this process should be postponed. The constitution of Georgia says that the judiciary must be independent, this is the condition for the Georgian people. Accordingly, parliament must fulfil its obligation and act in accordance with the requirements of the constitution," Ambassador Degnan said.
Degnan added that it is entirely possible to suspend this process:
"Everyone should take these issues very seriously. I have said before that the assessment that the non-appointment of judges will lead to the collapse of the system at this stage is not the case, because the court has a sufficient number of judges, and it is entirely possible to suspend this process", Kelly Degnan noted.
Regarding the municipal elections that are scheduled to take place in the fall of 2021, Ambassador Degnan said that she expects the elections to proceed in a calm atmosphere and the results will be reliable:
"Municipal elections scheduled for October this year will become an important test of democracy and electoral system of Georgia. Everyone expects the elections to proceed in a calm atmosphere, and their results to be completely trusted by the country's population […] It is very important that during the municipal elections we are able to see that social media are bringing more use to the election process, as well the reduction of hate language, disinformation, and lies. More information about the electoral plans and plans of the political parties should be spread on social media," Degan concluded.