Protesters to rally against the illegal detention of Georgian citizen in Tskhinvali
By Veronika Malinboym
Wednesday, June 23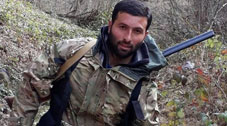 A rally against the illegal detention of the Georgian citizen Zaza Gakheladze is planned for tomorrow by his relatives near the border line, however, local authorities have already referred to it as 'provocation' and promise to bring the participants of the rally to justice.
According to the local authorities, "despite the statements of the Georgian side calling to resolve the issue within the framework of international mechanisms, some opposition forces in Georgia are trying to disrupt the negotiation process":
"On June 17 of this year, the leader of the Georgian Public Movement Ertobashia, Davit Katsarava, announced another provocative initiative on his Facebook page on June 23, which aimed to encourage the Georgian government to take more active steps to facilitate the release of the convict.
Given the nature of Unity Power's activities, it is possible that protesters will attempt to cross the 'border' illegally. The implementation of such provocative initiatives, regardless of whom they come from, causes significant damage to the negotiation process. We emphasize that the attempts to violate the administrative and legal regimes established on the 'border' will be thwarted 'within the framework of the current legislation', the statement of Tskhinvali Security Services reads.
One year ago, on July 11, Zaza Gakheladze was wounded Kaspi with a firearm and then captured by Russian military services, as he allegedly, opened fire near the border. Gakheladze was charged under two articles of the Russian Criminal Code - "attempted murder" and "illegal crossing of the state border." On February 5, Tskhinvali court sentenced him to 12 years and 6 months in prison.
June 23 is Zaza Gakheladze's birthday, and, to draw more attention to his arrest and subsequent sentence, his family will hold a rally in the village of Kvemo Chala.