British Royal Navy destroyer HMS Defender enters Batumi port
By Veronika Malinboym
Monday, June 28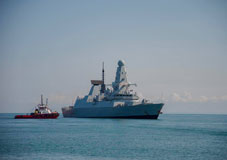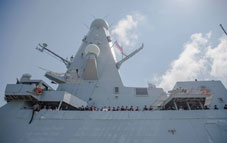 British Royal Navy destroyer HMS Defender entered Batumi port on June 26 following an incident with the Russian military forces in the Black Sea, off the coast of Crimea. In response to the warship's arrival, the Embassy of the United Kingdom to Georgia tweeted:
"Welcoming HMS Defender in beautiful Batumi! Fantastic demonstration of the UK's work with Georgia on regional security".
Earlier today, the ship has hosted members of the government of Georgia and the government of Adjara's Autonomous Republic:
"Honoured to welcome guests from Government of Georgia on HMS Defender.
Great Britain is committed to Black Sea security, stability and prosperity, and to Georgia's territorial integrity and sovereignty.
We'll continue to work with Georgia to safeguard democracy, international law and regional security," reads the UK Embassy's post.
Earlier this week, as the British destroyer was passing through the waters off the coast of Crimea, it has been shot at by the Russian coast guards and aircraft, after allegedly ignoring the repeated demands to not violate what Russia considers its state border. In turn, neither the United Kingdom, nor the rest of the Western world recognises the legitimacy of the annexation of Crimea, and, therefore, consider it to be a part of Ukraine. The warship's crew decision to proceed with its route has been commended by many as a demonstration of the UK's respect for the international waters and intolerance towards Russia's "aggressive policy of expansion". This incident marks one of many tensions between the navy of NATO member states' navy and Russia in the Black Sea.
Upon HMS Defender's arrival, British Embassy announced that its visit is a demonstration of the "close cooperation between UK and Georgia promoting defence and security in the Black Sea region."