US Ambassador Kelly Degnan says Georgian Parliament can suspend appointment of Supreme Court judges
By Veronika Malinboym
Wednesday, June 30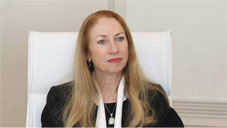 US Ambassador to Georgia Kelly Degnan has stated that the Georgian Parliament has the power to suspend the appointment of the Supreme Court judges and uphold the EU-brokered April agreement between government and opposition.
"I am very pleased that the judges have commented that they are ready to work with everyone to improve the judiciary. The US and international partners have been helping Georgia for the last 25 years, because the rule of law, an impartial judiciary is a prerequisite for NATO and EU membership", Ambassador Degnan said.
Kelly Degnan added that both the United States and the country's other international partners have actively been supporting Georgia's improvements in the field of justice as it a necessary precondition for the eventual EU and NATO integration. Earlier this week, 310 Georgian judges issued a joint letter condemning the "politically motivated and unhealthy processes" that undermine Georgia's judiciary.
On June 17, the High Council of Justice nominated nine candidates for the Supreme Court . In particular, Giorgi Gogiashvili, Gocha Abuseridze, Levan Tevzadze, Ketevan Meskhishvili, Giorgi Shavliashvili, Revaz Nadaraia, Bidzina Sturua, Eka Zarnadze, Lasha Gochiashvili.
According to the EU-brokered agreement of April 19, under the current rule, High Council of Justice should have refrained from appointing judges to the Supreme Court. However, it is indicated that the draft law on appointment to the Supreme Court should be submitted to the Parliament, which will take into account the conclusion of the Venice Commission published in 2019, open voting in the High Council of Justice and the need to substantiate the latter's nominations.
There should also be substantial reform of the High Council of Justice for transparency, integrity and credibility, including appointments, evaluations, promotions, transfers, measures and complaints to the Venice Commission and the OSCE / ODIHR and the ODIHR which must be fully performed.