UNICEF in Georgia: Our priority is to have children return to their biological families
By Veronika Malinboym
Wednesday, June 30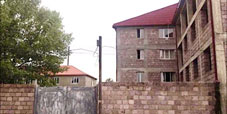 Representative of the United Nations Children's Fund in Georgia, Amy Clancy has announced that the organization's main priority is reintegration of children back to their biological families, and if that is not possible, they should be transferred to the alternative forms of care, such as foster families.
"When it comes to the small family homes, this should be our last resort, and can only be used as a temporary measure in order to have children finally return to their homes. It is also very important that children have access to a proper upbringing. UNICEF is ready to provide the relevant assistance in order to prevent children from being separated from their families", Clancy said.
On Monday, the Public Defender of Georgia Nino Lomjaria was admitted to the Patriarchate's Ninotsminda Boarding School for the first time since 2018, following the accusations of physical and sexual abuse at the facility. The Ombudsman was accompanied by the new head of the facility, Archbishop Iakob, and the lawyer of the Georgian Orthodox Church, Edisher Karchava. Lomjaroa was allowed to Boarding School after she met with Archbishop Iakob on June 17.
According to Lomjaria, currently, there are 15 children in the boarding school, while 20 have already left per the decision of the court and have been sent back to their families or placed in family-type care facilities. The Public Defender believes that all of the children should now be relocated to the alternative care facilities as they now have an opportunity to 'express their will freely'.
The scandal around Ninotsminda orphanage has escalated after the repeated reports of the abuse against children residing there and the inability of social workers and representatives of the Ombudsman's office to enter the facility for monitoring.