Transparency International Georgia boycotts election of the Supreme Court judges
By Veronika Malinboym
Monday, July 5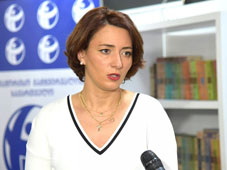 Transparency International Georgia boycotts the parliamentary procedures for the election of the Supreme Court judges, the organization's head, Eka Gigauri has announced:
"Transparency International Georgia will not participate in this process either as part of a coalition or individually. We have too many questions about this process. We demand to carry out a reform first and then elect the Supreme Court judges," Gigauri added.
Head of TI Georgia also noted that the processes that can eb witnessed right now have nothing to do with an in-depth reform, but can rather be described as a "superficial":
"They have not stopped specific trials in court. There is a demand not only from the local non-governmental organizations, but also from our Western partners that certain processes and the appointment of judges should be suspended until the reform is carried out, to which the Georgian government does not pay attention. This is a very big problem," Eka Gigauri told the reporters.
According to the EU-brokered agreement of April 19, under the current rule, the High Council of Justice should have refrained from appointing judges to the Supreme Court. However, it is indicated that the draft law on appointment to the Supreme Court should be submitted to the Parliament, which will take into account the conclusion of the Venice Commission published in 2019, open voting in the High Council of Justice, and the need to substantiate the latter's nominations.
There should also be substantial reform of the High Council of Justice for transparency, integrity and credibility, including appointments, evaluations, promotions, transfers, measures and complaints to the Venice Commission and the OSCE / ODIHR and the ODIHR which must be fully performed.
The election of judges outside the EU-brokered agreement has also been condemned by the US Ambassador to Georgia.