Special Forces Arrive on Rustaveli Avenue, Violent Groups Shoot Explosives
By The Messenger Staff
Wednesday, July 7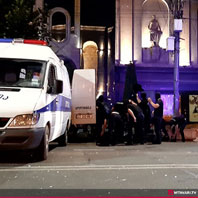 Representatives of the Ministry of Internal Affairs arrived at the Parliament by minibusses, with special equipment.
Representatives of the Ministry of Internal Affairs are removing some of the contract participants from the territory.
The situation became tense several times during the solidarity rally.
Violent and homophobic groups broke through a police cordon and threw stones and batons at protesters.
Ordinary citizens, politicians, civil activists, and members of Tbilisi Pride gathered at the solidarity rally.
The silent rally was planned after violent and homophobic groups opposed to the March of Dignity physically assaulted journalists and cameramen.
The Patriarchate has issued a statement on the ongoing events on Rustaveli Avenue and called on the participants of the violent contraction to remain calm.
"We appeal to the citizens of our country, to all members of society - it is inadmissible to escalate further confrontation with swearing and verbal abuse against an already tense background.
Turning the confrontation into physical abuse will be detrimental to our country. Violence can never be good, it will hurt not only individuals but our entire society and state. I urge everyone to calm down! "- their statement reads.