Georgia's Minister of Economy presents the country's 10 year development plan
By Veronika Malinboym
Wednesday, July 7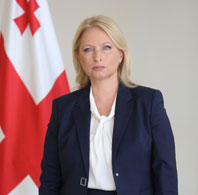 Minister of Economy of Georgia Natia Turnava has presented a new 10-year plan of the country's economic development, covering 12 major fields and setting goals and indicators that Georgia should achieve by 2025 and 2030.
According to Minister Turnava, Georgia's economy is expected to grow by 8% this year, based off the economic indicators of April and May:
"Unprecedented economic growth witnessed in April and May allows us to predict that by the end of this year we will witness at least 8% growth. In 2025 and 2030 we will continue to maintain an average economic growth of 5-5.2% and further strengthen our status as a regional leader in economic growth," Georgia's Minister of Economy said.
Turnava also noted that before the pandemic broke out, the country used be the region's leader in economic development which is why it will now be necessary to double the country's efforts to reclaim this status:
"In recent years, including 2019, we have gained the status of the region's leader in terms of economic growth and we will remain one, however, it will be necessary to double our efforts to achieve that – though, judging by what we have witnessed in the recent months, we can say that it is quite possible".
As part of the new plan, Turnava announced that the government will subsidize mortgage loans from 6-8% to families with newborns. 6% of the loans will be covered for the families with the first or the second newborn, while 8% will be covered for the families with the third or subsequent infant, given that the loan ranges between 60,000 - 300,000 lari. This program has first been announced earlier, by the country's Prime Minister Irakli Garibashvili, who noted that over 300 million lari will be allocated between 2021-2022 to implement such initiatives.