European Court of Human Rights rules in favor of killed lecturer's mother from Georgia
By Veronika Malinboym
Friday, July 9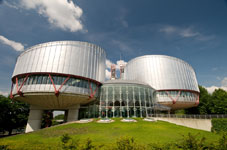 European Court of Human Rights has announced its decision in the case of Tkhelidze v. Georgia. According to the court ruling, the police "systematically failed to prevent gender-based violence" which led to Marika Tsivtsivadze, lecturer of the English language, being murdered by her ex-husband.
The lawsuit to ECHR was filed by the mother of Tsivtsivadze who has failed to find justice in the local courts in Georgia. An investigation into the case was launched in 2014 but was later dismissed due to the fact that the person liable for the crime passed away. However, according to the mother of the deceased Tsivtsivadze. The inaction of the police in regards to the case could be regarded as 'gender-based discrimination.
The ECHR has found that the Georgian police were aware that the murderer of Tsivtsivadze had a history of drug abuse, pathological jealousy, and "and was otherwise mentally unstable, becoming particularly aggressive when drunk."
The court also ruled that the police officers must have known that Tsivtsivadze was in danger but failed to implement necessary protective measures:
"All in all, the Court finds that the law-enforcement authorities demonstrated a persistent failure to take steps that could have had a real prospect of altering the tragic outcome or mitigating the harm. In flagrant disregard for the panoply of various protective measures that were directly available to them, the authorities failed to display special diligence to prevent gender-based violence against the applicant's daughter, which culminated in her death. When assessed against the similar findings of the international and national monitoring bodies, the Court finds that the police inaction in the present case could be considered a systemic failure," the ECHR ruling reads.
According to the ECHR decision, Georgia will have to pay EUR 35,000 to the mother of the deceased lecturer in respect of non-pecuniary damage.