The European Court of Human Rights has found violations of Article 10, freedom of expression, in the case of Aiisa.
(more)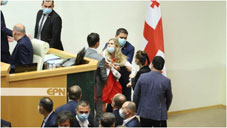 During the July 18 special session of the parliament, when the Minister of Internal Affairs Vakhtang Gomelauri was preparing to address the tribune, MPs Shalva Papuashvili and Irakli Zarkua used physical force against female MPs Tina Bokuchva and Nona Mamulashvili, who arrived at the rostrum and did not allow the minister to continue his speech.
(more)
"Senator Jim Risch: I am more and more concerned about the steps taken backwards in Georgia"
(more)