The News in Brief
Tuesday, November 9
Prepared by the Messenger Staff
Ombudsman Representatives Says Saakashvili was Transferred to Gldani Prison by Force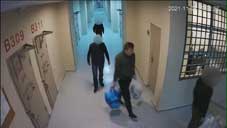 Former President of Georgia Mikheil Saakashvili was carried to Gldani 18th Medical Institution by ambulance, according to the Public Defender's spokesperson, Mikheil Ghoghadze.
Ghoghadze stated that Saakashvili was transferred from Rustavi to Gldani against his will.
"He did not want to move to the 18th facility. He was removed from the 12th facility by force. According to Mikheil Saakashvili, he was transported by car. They took him by ambulance," Ghoghadze said.
According to the Public Defender's spokesman, computed tomography equipment in the 18th facility is now being installed.
Melia Says PM Won't be Allowed in Government Administration Building Anymore
Near the government administration, a considerable number of law enforcers have been mobilized. They formed a human chain in front of the chancellery.
Protesters marched towards the government administration at Freedom Square yesterday.
The National Movement Chairman Nika Melia led the rally participants to the government administration. Prime Minister Irakli Gharibashvili "will not be permitted to enter or exit the building from today on," according to Melia.