The News in Brief
Wednesday, November 24
Prepared by the Messenger Staff
Melia Says UNM Will Introduce Party's Plan This Week
According to Nika Melia, the chairman of the United National Movement, he will inform the public about the party's action plan by the end of the week.
Melia was also present at today's rally, when UNM members and citizens gathered a live chain to mark the 18th anniversary of the Rose Revolution.
He told reporters that he was actively working with politicians and "would make a very specific, well-written plan with his partners."
Melia said the public should understand why the opposition is calling for early parliamentary elections.
"Strategic patience is the most important thing. You, me and many people yesterday wanted the oligarch not to be in charge of state institutions and the country to be able to breathe. It will definitely happen in the near future, but grumbling about why it did not happen yesterday will not work tomorrow," Melia said.
Doctor Says Saakashvili's Condition is Stable, Vital Parameters Are Normal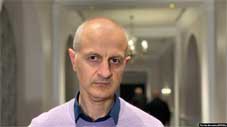 Neurologist Tengiz Tsuladze, who is a member of the council created by the Public Defender, says that Mikheil Saakashvili's condition is stable and vital parameters are normal.
Tsuladze visited the ex-president together with other doctors of the Consilium at the Gori Military Hospital today.
According to him, Mikheil Saakashvili is still weak, has eye problems and it may take several weeks to improve. However, as the neurologist says, the ex-president can both walk and speak.
Journalists asked him if Saakashvili would be able to attend the trial, which is scheduled for November 29.
"It is difficult to say in advance whether he will be able to improve by November 29 so that he can attend the trial. He may improve and attend, but 100% is not expected. We do not know how it will be in 6 days."
Mikheil Saakashvili was taken from Gldani 18th Prison Hospital to Gori Military Hospital on November 19 after a 49-day hunger strike.