The News in Brief
Wednesday, December 1
Prepared by the Messenger Staff
Melia: We Have to Gather in the Court Yard on December 2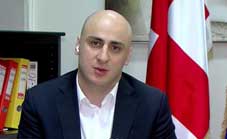 According to the chairman of the United National Movement, Nika Melia, on December 2, a rally in support of Mikheil Saakashvili will be held in parallel with the trial. Melia said this on the main channel and called on the supporters to come to the rally.
"We have to gather in the court yard on December 2, despite the violence, we have to go even further, but we have to do everything so that we do not follow their provocations. These protests will not be delayed. "We must come out and say that we are leaving Mikheil Saakashvili in captivity and we are also embracing Bidzina Ivanishvili's regime," Melia said.
On December 2, in the Tbilisi City Court, the so-called Mikheil Saakashvili will be tried in the case of jackets. The government accuses Mikheil Saakashvili of embezzling state-owned property.
According to the prosecutor's office, in the period from September 2009 to February 2013, the President of Georgia, Mikheil Saakashvili, secretly embezzled GEL 8,837,461 from the state budget for his services to him and various individuals in Georgia and abroad. The prosecutor's office filed charges against Saakashvili in 2014.