Georgian President Salome Zourabichvili said on Monday that Russia's aggression in Ukraine has created a new reality 'that has already defeated Russia's ambitions and goals in Europe'.
(more)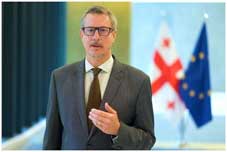 EU Ambassador H.E. Carl Hartzell says Georgia could have been better prepared to receive EU membership because, he said, "the EU is concerned about the country's current trajectory."
(more)
The main expectation of the government and the opposition in Georgia is currently a possible EU response to Georgia's application to become a candidate for EU membership.
(more)