According to Tbilisi City Hall, Ukrainian citizens arriving in Georgia will receive financial assistance from July 15, and the housing program will be terminated starting July 31.
(more)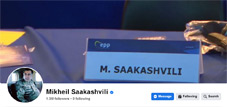 Mikheil Saakashvili, Georgia's third president, claims that the United States of America saved Georgia in 2008.
(more)
"Soso Gogashvili's lawyer comments amid the detainment of former deputy head of the State Security Service of Georgia"
(more)
Recently, many statements have been made by the speaking leaders of "Georgian Dream" to the West.
(more)