The News in Brief
Tuesday, September 6, 2022
Prepared by Messenger Staff
New EU ambassador to Georgia Pawel Herczynski presents credentials to President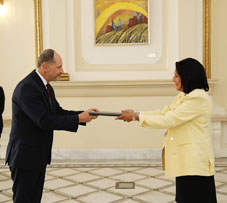 The new ambassador of the European Union in Georgia, Pawel Herczynski, presented the credentials to President Salome Zourabichvili.
According to the President's administration, after the official ceremony of handing over the credentials in the Orbelian Palace, the President held a face-to-face meeting with the Ambassador. The conversation touched on the process of Georgia's integration into the European Union.
Herczynski headed the Common Security and Defense Policy and Crisis Response Directorate of the EU External Action Service in Brussels. Earlier, he held the positions of Polish Ambassador to the Political and Security Committee in Brussels, Deputy Permanent Representative of Poland to the United Nations in New York, and Deputy Director of the European Union Department at the Polish Ministry of Foreign Affairs.
Herczynski replaced Carl Hartzell, whose term of office has expired, as the head of the EU representation in Georgia.
MFA of Ukraine publishes list of 15 people demanding to be sanctioned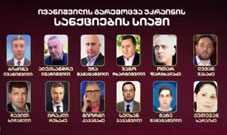 The Ukrainian side published a list of 15 people, naming people Ukraine wants sanctioned for supporting the war in Ukraine. There are 12 Georgians included in the list. The information was released on the website of the Ministry of Foreign Affairs of Ukraine and the Sanctions Group of the Anti-Corruption Agency.
Russia's support for the war in Ukraine was cited as the reason for those included in the list. It was also noted that the mentioned people are connected to the Russian oligarch Vladimir Yevtushenkov.
Bidzina Ivanishvili and his family members are also included in the sanctioned list. The list includes Ivanishvili's brother Alexander Ivanishvili and his brother's wife, Ketevan Kharaidze, under whose name Alexander Ivanishvili has registered multiple businesses.
The list also includes Bidzina Ivanishvili's cousin Ucha Mamatsashvili along with his son, Tate Mamatsashvili. Ucha Mamatsashvili is connected with Russian businesses.
Irakli Rukhadze, Giorgi Kapanadze, Vano Chkhartishvili, Davit Khidasheli, Sulkhan Papashvili, Levan Vasadze, Otar Fartskhaladze, Aleksey Poltavchenko, Dmitry Korzhev, Dmitry Troitsky were also included in the list.
The sanctions working group includes former US Ambassador to Ukraine John Herbst, former US Assistant Secretary of State David Kramer, senior officials of the Ukrainian government and representatives of non-governmental organizations.