The News in Brief
Monday, September 19, 2022
Prepared by Messenger Staff
Opposition to not register the de-oligarchization bill in the parliament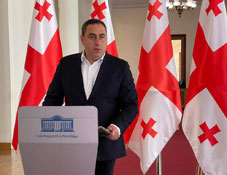 After the meeting of the opposition and the non-governmental sector, it became known that the part of the opposition will probably not register the bill on de-oligarchization in the parliament.
"White smoke rose from the top of this building. We agreed. On Tuesday, we will publish a document reconciled with the civil sector, which is of crucial importance. We are all in a common position, we want to get the EU candidate status as soon as possible.
As for the law on de-oligarchization, we had a difficult discussion, but we shared the position of the civil sector, and most likely, the draft law will not be registered on our side in the parliament. However, we will make it public and start general discussions on the principles that should be the basis of the possibilities of de-oligarchization legally", said Giorgi Vashadze, the leader of "Strategy Aghmashenebeli".
As Guro Imnadze, a lawyer of the "Social Justice Center", explained, there are two possible ways to solve the problem of de-oligarchization:
Fulfillment of 11 points from the 12-point plan, which will lead to an increase in the independence of state institutions, will strengthen judicial and parliamentary supervision, which, according to his assessment, will be a prerequisite for the elimination of informal influences. According to Imnadze, the second way is to create special fair guarantees.
According to the political secretary of "Lelo", Salome Samadashvili, the procedure for electing the public defender was also discussed at the meeting.
"It is quite possible to agree with political forces and support the candidate nominated by non-governmental organizations by deputies even without any written procedure. We have to fight until it is possible for independent candidates to be among the candidates for voting," he said.
The leaders of the opposition parties met with the representatives of the non-governmental sector for several hours.
The subject of discussion was the implementation of 12 recommendations of the European Commission.
President Zourabichvili expresses condolences for the death of the queen on behalf of the Georgian people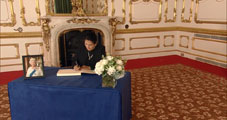 According to the administration of the President of Georgia, Salome Zourabichvili made a note in the condolence book in Lancaster Palace in London and expressed her condolences to the royal family and the United Kingdom on behalf of the Georgian people.
"It is my honor to be able to present my condolences and that of the people of Georgia for the passing of Her Majesty the Queen. It's a page of history, a great page, that is closing down
The British and Commonwealth people can be very proud of having had a Queen like Her Majesty" Zourabichvili wrote on Twitter.