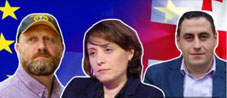 "Strategy Agmashenebeli", "Girchi - more freedom" and "Droa" talked about the necessity of opposition unity and the idea of primaries.
(more)
The Embassy of the Islamic Republic of Iran in Georgia issues a statement regarding the use of Iranian drones in the ongoing military operations in Ukraine.
(more)
"Georgian Dream to create an anti-corruption bureau"
(more)
On October 18, in the first reading, the Parliament of Georgia supported the constitutional amendment project regarding the new procedure for electing the Prosecutor General
(more)