The News in Brief
Friday, October 28, 2022
Prepared by Messenger Staff
MFA Minister Darchiashvili evaluates PM Gharibashvilis visit to Hungary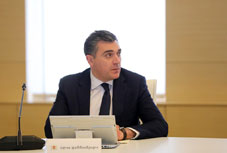 The Minister of Foreign Affairs of Georgia, Ilia Darchiashvili, evaluated the visit of the Head of Government of Georgia, Irakli Gharibashvili to Hungary.
"The official visit of the Prime Minister of Georgia to Hungary has ended. Hungary is our country's prominent supporter of Euro-Atlantic integration. Accordingly, this visit was of special importance," he said.
According to him, the mentioned visit will bring concrete tangible results on the path of Georgia's European and Euro-Atlantic integration. In addition, the minister noted that the existing successful cooperation between the two countries will move to a new level.
"In the bilateral relations that we have established over the years, we will have new concrete impulses that will bring our two countries even closer, cooperation will be even stronger," Darchiashvili explained, emphasizing that trade and economic relations, as well as cooperation in the educational field, will be Georgia's and priority directions for strengthening ties between Hungary.
"We had very interesting and in-depth discussions on strengthening and deepening relations. I am sure that after this visit, we will have even more dynamic, more result-oriented cooperation. We count on Hungary as a strong supporter of our country.
In order for Georgia to successfully continue moving in the direction of its foreign priorities, Hungary, together with other partners, will be one of the countries that will be able to support and help our country in a very loud and effective way," said Ilia Darchiashvili.
Abkhazian language is in danger of extinction, President Zourabichvili writes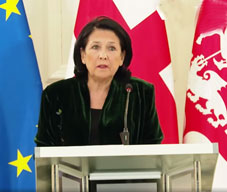 Georgian President Salome Zourabichvili wrote on social media that the Abkhazian language is in danger of extinction:
"Today, when the Abkhazian language is in danger of disappearing, the Abkhazian language day should be a day of reflection for us, Abkhazians and Georgians, because there is no survival of the Abkhazians without the survival of the Abkhazian language," President wrote.
According to President Zourabichvili's explanation, the Abkhazian language faced the threat of extinction for the first time in its many thousand years of existence.
"It is symbolic that the river Engur, which separates us today, was called the underground river of wisdom in the Sumerian language. Wisdom should bring us closer to each other, lack of wisdom has led us to disaster, and in its many millennia of existence, the Abkhazian language has faced the threat of extinction for the first time.
Georgia, while deepening its European integration, should be able to make the survival and development of the Abkhazian language an important topic of the common European cultural agenda.
As I stated last year in "UNESCO" regarding the establishment of the International Day of Caucasian Languages, it is possible to save the Caucasian languages, including the Abkhazian language, only with the involvement of the international community", wrote President Zourabichvili.