American Ambassador to Georgia H.E. Kelly Degnan responded to the report of the European Parliament, which refers to the implementation of the Association Agreement between Georgia and the European Union.
(more)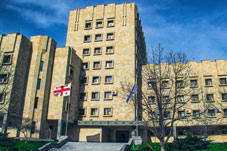 According to the prosecutor's office, with the involvement of representatives of the competent agencies of seven countries, a transnational crime was detected on the territory of four countries at the same time.
(more)
"MEPs are trying to make irrelevant changes in resolution, Kobakhidze says"
(more)
On October 24, President of Azerbaijan Ilham Aliyev visited Georgia. During the meeting of the two countries' authorities, the subject of discussion was the official transit projects of Baku, the implementation of which is possible only with the participation of Georgia.
(more)