The News in Brief
Friday, November 25, 2022
Prepared by Messenger Staff
EU supports non-recognition of passports issued by Russia in Georgia and Ukraine occupied regions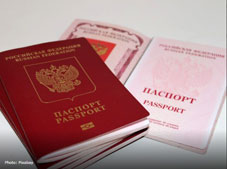 The European Parliament supported the decision not to recognize passports issued by Russia in the occupied regions of Georgia and Ukraine.
According to the proposal of the European Parliament, the Commission should consult with the EU member states and create a list of Russian travel documents, namely passports, which will not be recognized. However, those fleeing the war in Ukraine will still be able to enter the EU on humanitarian grounds.
531 members of the European Parliament supported the decision, only 7 were against, and 34 MEPs abstained from voting.
"The European Parliament is ready to do everything to keep up the pressure on Russia through legal and political means to make sure that Putin pays a high price for this illegal war and international crimes committed against Ukraine and its people," said Juan Fernando López Aguilar, MEP of the Group of the Progressive Alliance of Socialists and Democrats after the vote.
De-facto Republic of Abkhazia's 'MFA' calls EU passport decision 'provocation'
The European Parliament's decision to not recognize passports/travel documents issued by the Russian Federation on the occupied territories of Georgia and Ukraine was criticized by the so-called Ministry of Internal Affairs of Abkhazia
They assessed the EU decision as a 'provocation' and said that it is an attempt to internationally isolate the so-called Republic of Abkhazia.
"The European Union is becoming a direct accomplice of Georgia's illegal and inhumane policy of international isolation of the Republic of Abkhazia," the statement of the de-facto Ministry reads.