The News in Brief
Thursday, December 22, 2022
Prepared by Messenger Staff
European Union to publish evaluation of second part of questionnaire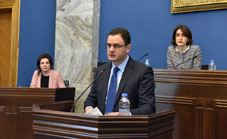 According to the information of Deputy Minister of Foreign Affairs Teimuraz Janjalia, by the end of 2022, Georgia is waiting for the publication of the evaluation of the second part of the questionnaire by the European Union.
As the Deputy Minister explained at the meeting of the Parliament's European Integration Committee, this will be an assessment of Georgia's compatibility in the direction of legislative and institutional convergence, and next year, the European Commission's next assessment report will be published.
"We have information that the assessment is positive. We have taken important steps regarding the compatibility of Georgia with the European Union in the direction of legislative and institutional rapprochement. In the autumn of next year, we expect that within the framework of the expansion package, Georgia will finally be granted the status of a candidate," said Teimuraz Janjalia.
According to his information, Georgia continues to successfully implement the obligations stipulated by the association agreement with the European Union and the association agenda.
According to Janjalia, at this stage, Georgia has successfully implemented approximately 50% of the obligations of the association agreement, and approximately 60% of the European directives and regulations in the direction of the implementation of the component of the deep and comprehensive free trade space have already been reflected in the Georgian legislation.
Minister of Defense of Georgia meets with Azerbaijani colonel-general Zakir Hasanov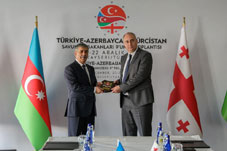 Within the framework of the Azerbaijan-Turkey-Georgia tripartite ministerial meeting, the Minister of Defense of Georgia, Juansher Burchuladze, held bilateral meetings with his colleagues, and the press service of the Ministry of Defense released the information.
According to the Ministry, the Minister of Defense of Georgia, during the meeting with his Azerbaijani colleague, colonel-general Zakir Hasanov, focused on the security situation in the region, and the importance of peace and stability.
"Defense ministers discussed jointly implemented and ongoing important projects. According to Juansher Burchuladze, the implementation of the energy project is of historical importance, which was confirmed by the signatures of the Prime Minister of Georgia and the leaders of Azerbaijan, Romania and Hungary a few days ago.
At the meeting, the parties also discussed directions of bilateral cooperation in the field of defense, including cooperation in the field of military education and joint participation in multinational military exercises.
Azerbaijan-Turkey-Georgia Trilateral Defense Ministerial has been held regularly for years and participating countries are hosting it on a rotating basis. This year, the ministerial meeting is being held in the Republic of Turkey," the Ministry's statement reads.