The News in Brief
Tuesday, January 24, 2023
Prepared by Messenger Staff
Minister of Finance says country's tourism and export increased more in relation to worldwide than Russia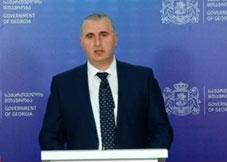 The Minister of Finance of Georgia Lasha Khutsishvili talked about the sanctions imposed against Russia at a press conference after the government session.
"There is no reason for anyone to doubt that sanctions are not being enforced in Georgia - we can confidently say that Georgia is one of the leading countries in the direction of international sanctions enforcement," he said.
According to him, the government of Georgia communicates with its partners on a daily basis regarding the enforcement of sanctions.
Khutsishvili said the country has received many letters of thanks for the measures it takes to ensure that the sanctions are implemented according to the established standard.
He also noted that tourism and export in Georgia increased more in relation to other countries of the world than in relation to Russia.
"I would like to point out that the growth of tourism and exports in Georgia was much higher without Russia than with Russia. That is, the export to the whole world increased more than it increased with respect to Russia. Also, in relation to the whole world, tourism increased more than it was observed in relation to Russia. Accordingly, in this part, it is better to rely on official statistics and draw conclusions from existing statistics," said the Minister of Finance.
Revenue in tourism reaches 3.5 billion USD in 2022, National Tourism Agency writes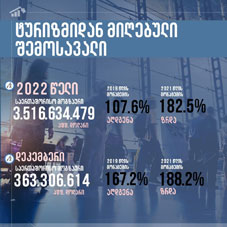 According to Georgia's National Tourism Agency, in 2022 the income from travel exceeded the figure of 2019 and a record figure was recorded - 3,516,634,479 USD.
According to their reports, 5.4 million international travelers visited Georgia in 2022.
"In 2022, compared to 2019, 71.9% of international tourist visits and 58% of international traveler visits were restored.
Last year, a total of 5,426,903 international travelers visited Georgia, which is +188.5% more than in 2021.
In 2022, 3,652,949 international tourist visits took place in the country, which is +131.6% more than the same period of 2021.
December 2022 was distinguished by the dynamics of tourism recovery. During this period, 564,656 international travelers visited Georgia, which is an 84.6% recovery of the data of 2019, and compared to 2021, the increase is +216.9%, the agency wrote.